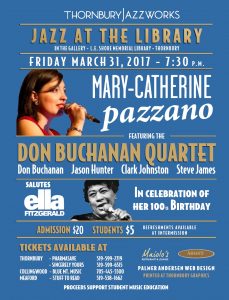 JAZZ AT THE LIBRARY   –    ELLA at 100 @ L.E. Shore Memorial Library, Thornbury

In celebration of Ella Fitzgerald's 100th Birthday, THORNBURY JAZZWORKS presents a concert showcasing many of the well known melodies she made her own.
Ira Gershwin exclaimed: "I never knew how good our songs were until I heard Ella sing them". It is noteworthy that the Toronto Symphony Orchestra will pay a Swinging Tribute to Ella Fitzgerald at Thomson Hall in June to recognize her importance in the world of music.
On Friday March 31, 2017, Mary-Catherine Pazzano will give us her interpretation of the songs Ella loved to sing, accompanied by Don Buchanan on piano, Jason Hunter on tenor, Clark Johnston on bass and Steve James on drums.
Tickets are $20 for Adults, $5 for Students,  available in Thornbury at Pharmasave and Sincerely Yours, in Collingwood at Blue Mountain Music and in Meaford at Stuff To Read.
THORNBURY JAZZWORKS is a non-profit community group committed to encouraging excellence in jazz music and supporting student music programs at local schools.