Valerie Hill, The Record, October 25, 2017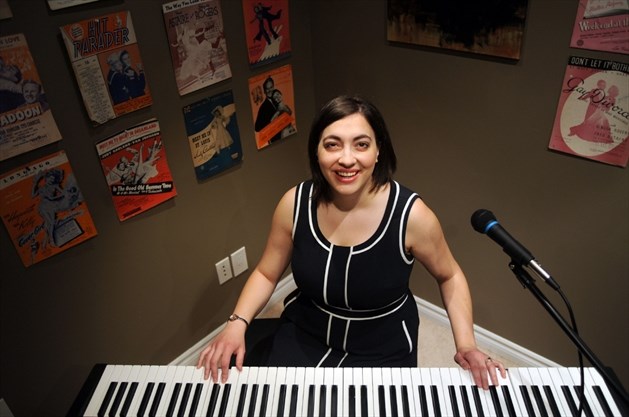 Mary-Catherine Pazzano's earliest musical memories are of sitting on her grandmother's knee singing along while she played piano.
Pazzano even ended up inheriting her grandmother's rather eclectic collection of old sheet music, everything from the children's ditty "Do You Know the Muffin Man" up to soul tracks. She's had a few of these published manuscripts framed and hung in the music studio in her Kitchener room, beside numerous classic movie posters.
The early influences of her grandmother and old movies led Pazzano to sing at full throttle from the time she was a little kid. Her first solo was in Grade 4, an age where she could have gone either way: stage fright or fearless. She chose the latter, mostly because she didn't know any different.
"I had never known that was anything special," she admitted.
As a teenager, Pazzano was lucky enough to attend Bluevale Secondary when the multiple award winning music educator and choral conductor, Nancy Kidd taught music before retiring. "She showed me the possibilities," said Pazzano. "She made me think of music on a deeper level. She's been a huge inspiration."
That influence led Pazzano to study vocal performance at the University of Waterloo, where she graduated in 2010 having studied under another highly respected musician and vocal teacher, Stephanie Kramer.
"She really gave me my classical training," she said.
Those experiences with two remarkable teachers had a profound impact on Pazzano who launches her debut studio album, "You're Gonna Hear From Me" Friday night at the Jazz Room in Waterloo. She's pretty stoked.
"The first time I played at the Jazz Room, I had great local people working with me," she said. "They were really helpful."
Pazzano had been living in Toronto until 2012 where she completed teachers college and thought she'd launch a singing career, figuring the big city would have more opportunities. She soon changed her mind. "I decided to move back to Kitchener," she said. "I wanted a performance career and there is so much happening here."
Despite her classical training, Pazzano had switched gears to pursue jazz, a genre that provided more opportunities with just as many vocal gymnastics.
Pazzano also has not forgotten the deep influences of her vocal teachers and is now paying it forward, running a voice studio in her home and founding Jazz in the Schools, a program designed to spark the musical creativity of students. She also runs a jazz for adults class.
The singer's decision to switch to jazz has been good for her career. She has become a regular performer at Collingwood's Jazz at the Library series, Southampton United Church's Jazz Series and she headlines with the Canadian Big Band Celebration in Port Elgin.
For the Jazz Room concert, Pazzano will perform with her quartet including pianist Don Buchanan, bass player Pat Collins, saxophonist Jason Hunter and drummer Steve James.
The new album, she said, is about "storytelling" in the old jazz style and given she also produced the album, she's doubly proud of this record.
"The time and effort I put into it enhanced my musical development," she said. "I learned so much." Part of that development was being able to listen to the tracks with a critical ear.
"I hate listening to myself," she said, noting producing your own recording requires listening to nuances in the tracks over and over.
"You just have to get over yourself," she concluded with a laugh.