Meaford Express, April 20, 2017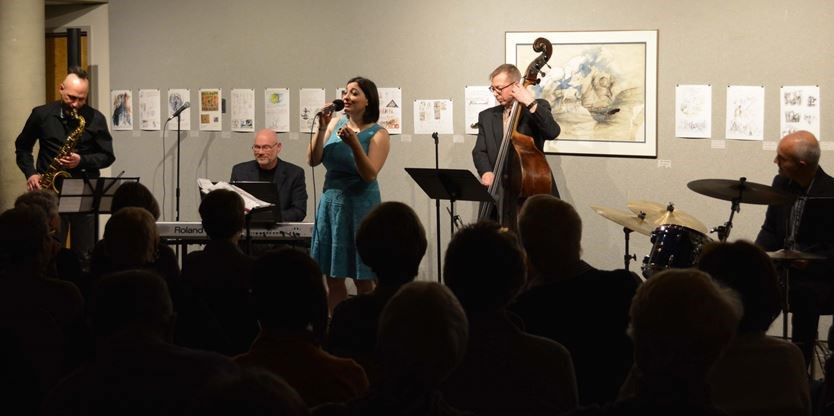 After two standing ovations at the last Jazz at the Library concert the sellout crowd remained on its feet to recognize the performance by Mary-Catherine Pazzano and the Don Buchanan Quartet.
In celebration of Ella Fitzgerald`s 100th birthday, Mary-Catherine brought the songs, which Ella loved to sing, to life again with her beautiful and rich voice to the L.E. Shore Library on March 31. As she sang and told the stories of those timeless melodies, it felt like she was reciting poetry.
The exquisite accompaniment by Don Buchanan on piano, Jason Hunter on tenor, Clark Johnston on bass and Steve James on drums exhibited supreme musicianship.
"Those five musical minds communicated with each other perfectly and created music of a calibre and artistry seldom heard," said organizer Tony Bauer. "A remarkable evening of admirable music."
The next event is Jazzmania at the March Street Centre on April 28 at 7:30 p.m.
Thornbury Jazzworks presents the Noodle factory Jazz Project, the 10-member orchestra featuring Canadian composers and arrangers in their 150 Years of Jazz program. Tickets are $25 for adults, $5 for students, available in Thornbury at Pharmasave and Sincerely Yours, in Clarksburg at Riverside Graphics, in Collingwood at Blue Mountain Music and in Meaford at Stuff To Read.