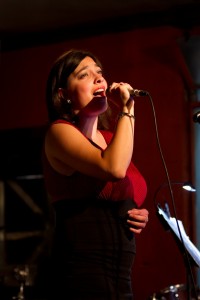 Make sure you come out to The Jazz Room on Friday, January 18th! Doors open 6:30, show starts at 8:30.
"A recent University of Waterloo Music grad, Mary-Catherine has burst onto the jazz scene with particular verve and style, performing in such venues as Toronto's Rex Hotel and Gate 403.  Mary-Catherine has a penchant for classic films, and her musical preferences for many of the favourite jazz standards follows her vintage style. Not content to repeat the past, however, her renditions are sure to be fresh and spontaneous, bringing new light and interpretation to familiar melodies.
Joining Mary-Catherine is a trio of fine musicians well-known to Waterloo jazz audiences. Long time Music Director at Stratford Festival, and frequent side-man in groups such as Phoenix Jazz Group and the Wellington Winds, Art Lang brings extensive performing and arranging experience to bear in his role as bass player. Paul Stouffer on piano is similarly engaged in popular groups such as Top Pocket and the Greg Prior Quartet. Rounding out the group is the ever versatile and fleet of finger, Jason DeRoche on guitar. Don't miss this special Jazz Room debut of a rising vocal star!
Visit our calendar for details on tickets, show time, and our opening schedule."
Promo piece courtesy of: The Jazz Room website.