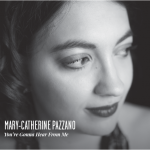 Hear music from Mary-Catherine's debut studio album "You're Gonna Hear From Me" HERE!
Here's what the critics are saying:
"On her debut release, elegant chanteuse Mary-Catherine Pazzano has not only shown exceptional good taste in presenting 12 fine compositions from musical theatre, film and the Great American Songbook, but she has also conscripted a superb lineup of musical collaborators, including Don Buchanan on piano (also co-producer), Jason Hunter on saxophones, Pat Collins on bass and Steve James on drums. Arranged and produced by Pazzano, she has selectively dipped into the catalogues of venerable composers such as Jerome Kern, Oscar Hammerstein, Harry Warren, Cole Porter, Henry Mancini and Johnny Mercer as well as contemporary artists, Joni Mitchell and Billy Joel.
First up is the stirring (and rarely performed) title track, written for the cult film Inside Daisy Clover starring Natalie Wood. Pazzano shines throughout with energy and luscious tone, as she soars with her quartet.  Buchanan and Pazzano have included one well-written original composition, A Simple Conversation – which has the potential to become a contemporary jazz standard. Another standout is Mancini and Mercer's Charade, from the hit movie of the same name starring Audrey Hepburn. Haunting and languid, this tune is set as perfectly as a Tiffany solitaire – with a many-faceted voice/bass section in front, followed by an up-tempo sequence and fine bass solo from Collins.
Pazzano possesses a gorgeous, classically trained contralto voice capable of projecting the full gamut of emotions, as well as an uncanny skill with rendering the lyrics of current music, jazz standards and show tunes. A fine opening salvo!"
Lesley Mitchell-Clarke, The WholeNote Magazine, Dec. 2017 Issue
Buy the album HERE at Mary-Catherine's online shop!
Hear Mary-Catherine on "Earth Anthems" (Lucas Tensen, 2020):
Hear Mary-Catherine on "Songs for My Mother" (Carol Ann Weaver, 2018):