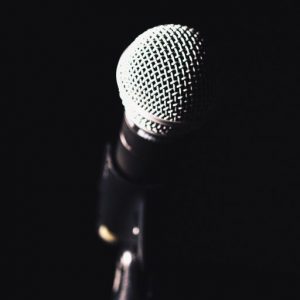 Concert/album reviews and various media coverage of events and performances.
"You're Gonna Hear From Me" album review by Scott Yanow: May 10, 2018
A talented jazz and ballad singer based in Ontario, Canada, Mary-Catherine Pazzano has an attractive high voice and a subtle improvising style. While she is involved in jazz education (founding and directing both Jazz In The Schools and Jazz For Adults), she is also very active as a performer. You're Gonna Hear From Me is her debut CD as a leader.
Ms. Pazzano is joined on the project by pianist Don Buchanan, bassist Pat Collins, drummer Steve James and occasionally Jason Hunter on tenor and soprano. Each of the musicians consistently gives her sympathetic support with occasional brief solos.
The set begins with a welcome revival of the title cut. "You're Gonna Hear From Me." The Andre Previn song from the movie Inside Daisy Clover perfectly fits the singer's pretty voice and her wide range. She next performs the lesser-known Harry Warren ballad "Friendly Star" and a warm piece that she co-composed with Don Buchanan, "A Simple Conversation." "All the Things You Are" is given an unusual but effective treatment, starting out with some wordless classical-type singing that makes the piece sound as if it was written by Bach before the familiar melody emerges.
While the emphasis on the program is on thoughtful ballads, there are a few exceptions, most notably a happily swinging version of "It's De-Lovely" that includes some fine tenor playing. Her version of Jobim's "How Insensitive" has a mysterious and haunting feeling to it that is quite atmospheric. A tender rendition of Joni Mitchell's "River" precedes a fine version of "Charade" (which has a bit of Ms. Pazzano's scatting) and the Bergman's thoughtful ballad "Alone In The World," both of which are performed tastefully.
The last three performances on the CD are among the set's highpoints. A logical medley of "Manhattan" and "New York State Of Mind" goes from sweet to bluesy. "I Can't Believe That You're In Love With Me" is a real swinger that cooks. Then, for a closing surprise, Ms. Pazzano sings one chorus of the sad and quietly dramatic "A Cottage For Sale" as an unaccompanied vocal.
You're Gonna Hear From Me is an excellent debut from a singer who, indeed, much more will be heard from in the future.
Scott Yanow, jazz journalist/historian and author of 11 books including The Jazz Singers, Jazz On Film and Jazz On Record 1917-76
"Musical women in the spotlight at Registry Theatre Friday":
article
in Woolwich Observer, March 8, 2018
Two unique shows coming to the Jazz Room this week: article in Waterloo Chronicle, November 27, 2017
CFMU Study Jams, November 17, 2017: "How Insensitive" from "You're Gonna Hear From Me" gets mentioned among other new Canadian artists in a study playlist
"You're Gonna Hear From Me" charts on muzooka.com, November 8, 2017
CJAM Top 30, November 7, 2017: "You're Gonna Hear From Me" charted October 30-November 5, 2017!
Jazz At The Library Caps Season With Mary-Catherine Pazzano: article in Meaford Live Music, November 21, 2017
Jazz singer launches debut album at the Jazz Room: article by Valerie Hill in The Record, October 25, 2017
The Registry Theatre launches its 2017-18 calendar, offering up an eclectic mix: article in Observer, September 7, 2017
Andrea's Five Fun Things To Do This Weekend – June 3-4: article on cbc.ca, June 2, 2017
Breithaupt Brothers Concert Promo: article in broadwayworld.com, May 27, 2017
Ella at 100 Concert A Smash Hit in Thornbury: article in simcoe.com, March 31, 2017
"Five fun things to do: New Year's weekend Dec. 30-Jan. 2": article on cbc.ca, Dec. 31, 2016
"Festive favourites play the Jazz Room this holiday season": article in Waterloo Chronicle, Dec. 21, 2016
"Jazz at the Library to present an evening with Nat King Cole": article in Thornbury Paper, April 11, 2016
"Talented singers featured this weekend at The Jazz Room": article in Waterloo Chronicle, January 13, 2016
"Pazzano Hits the High Notes on History": Feature article by Coral Andrews in Nightlife (The Record), January 8, 2016
CBC News Article on "Andrea's Five Things To Do This Weekend", November 26, 2015
Article on Matao Jazz Trio in Collingwood Enterprise Bulletin, September 25, 2015
Article in Shoreline Beacon on Canadian Big Band Celebration, September 16, 2015
Feature Article for UW Alumni Blog, August 2015
Article in Shoreline Today promoting concert at Southampton United Church, May 30, 2015
Concert Review by Jon Svec, Thornbury Paper, May 23, 2015
Coverage from International Jazz Day for performance at Manhattans in Guelph, Ontario, April 2015:
International Jazz DayCelebrate Educate Participate CreateGreat Canadian Women in Jazz: Mary-Catherine McNinch-Pazzano#jazzday

Posted by Medistik on Monday, April 27, 2015
Article on Lyrical Lines Education Network Blog discussing launch of the Jazz in the Schools program, December 2014
Article in Waterloo Chronicle  discussing Mary-Catherine's Jazz Room for the Holidays show, December 2014
Article in The Saugeen Times covering Swingin' Hymns and Gospel Jazz Concert, November 2014
Photo coverage by photographer Kerry Jarvis of Inspirations and Influences concert in Southampton, Ontario, May 2014
Article in Waterloo Chronicle discussing Mary-Catherine's sold-out 2014 Valentine's Day concert at The Jazz Room, February 2014
Video from "Inspirations and Influences" concert shot by Philip Bast for KW Record website, January 2014
Feature in University of Waterloo's What Our Music Graduates Are Doing Now page, January 2014
Article in Waterloo Chronicle discussing Mary-Catherine's performance in the 2013 Uptown Waterloo Jazz Festival
Article in Wellington Observer discussing "Jazz at the Movies" concert at The Registry Theatre, May 24, 2013
Article about Registry Theatre's upcoming season (including promo for May 24, 2013 concert with Jason Raso Quartet)
Blog post by Jason Raso about our collaboration and mutual film fandom